Glatiramer Acetate Injection from Viatris is available in 2 dose strengths
For 3-times-a-week
Injection
Injecting Viatris' Glatiramer Acetate Injection with WhisperJECT Autoinjector
Gather the supplies you will need.
1 blister pack with a Glatiramer Acetate Injection prefilled syringe with needle attached
Alcohol wipe (not supplied)
Dry cotton ball (not supplied)
A place to record your injections, like the downloadable

Rotation Planner

or a notebook.
Sharps disposal container (not supplied) or needle clipper (from your Welcome Pack)
Remove one blister pack from the Glatiramer Acetate Injection prefilled syringe carton.
Keep all unused syringes in the carton and store them in the refrigerator.
Place the supplies you will need on a clean, flat surface in a well-lit area.
Let the blister pack with the syringe inside warm up to room temperature for about 20 minutes.
Wash your hands. Be careful not to touch your face or hair after washing your hands.
Look closely at your Glatiramer Acetate Injection prefilled syringe.
There may be small air bubbles in the syringe. Do not try to push the air bubbles from the syringe before giving your injection so you do not lose any medicine.
Check the liquid medicine in the syringe before you give your injection. It should look clear and colorless or slightly yellow. If it is cloudy or contains any particles, do not use the syringe. Throw it away in a sharps disposal container.
Choose your injection area. Talk with your doctor about the injection areas that are best for you
The possible injection areas on your body include:
* Stomach area; avoid 2 inches around the belly button. ** 2 inches above knee and 2 inches below groin.
For each dose, pick a different injection area from one of the areas listed above.
Glatiramer Acetate Injection is for under the skin (subcutaneous) injection only; do not inject into your veins (intravenously).

Do not stick the needle in the same place (site) more than once a week

. Each injection area contains multiple injection sites for you to choose from. Avoid injecting in the same site over and over again.
Keep a record of your injection sites, so you know where you have injected. Use the downloadable Rotation Planner or a notebook.
Prepare to give your injection.
There are some injection areas on your body that are hard to reach (like the back of your arm). You may need help from someone who has been instructed on how to give your injection in these areas.
Do not inject in sites where the skin has scarring or "dents," because it may make your skin worse.
Clean the injection site.
Clean the injection site using the alcohol wipe and allow your skin to air-dry.
How to Use
Using the Prefilled Syringe
Remove the syringe from its protective blister pack by peeling back the paper label.

Choose an injection site on your body. Clean the injection site with a new alcohol wipe and let the site air-dry.

Pick up the syringe with one hand and hold it like a pencil. Remove the needle cap with your other hand.

Pinch about a 2-inch fold of skin between your thumb and index finger.

Rest the heel of your hand holding the syringe against your skin at the injection site. Insert the needle at a 90-degree angle straight into your skin. When the needle is all the way in, release the fold of skin.

To inject the medicine, hold the syringe steady and slowly push down on the plunger.

When you have injected all of the medicine, pull the needle straight out.

Press a dry cotton ball on the injection site for a few seconds. Do not rub the injection site or reuse the needle or syringe.
Disposal & Storage
Disposing of the Syringe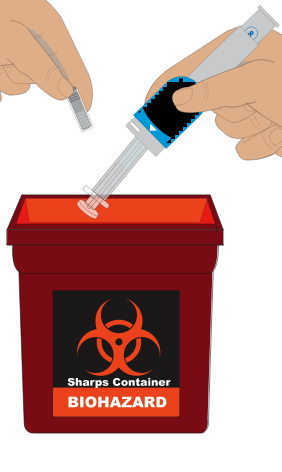 Put the used needles and syringes in an FDA-cleared sharps disposal container right away after use.

Do not dispose of loose needles and syringes in household trash.

If you do not have an FDA-cleared sharps disposal container, you may use a household container that:

Is made of heavy-duty plastic
Can be closed with a tight-fitting, puncture-resistant lid
Is upright and stable during use
Is leak-resistant
Is properly labeled to warn of hazardous waste inside

When the sharps container is almost full, follow the community guidelines and dispose of the container properly.
For more information about regulations, visit the FDA website

Do not dispose of your used sharps container in your household trash unless your community guidelines permit this. Do not recycle your used sharps disposal container.

The Needle can also be clipped with the Needle Clipper provided in the Welcome Pack from VIATRIS ADVOCATE. This Needle Clipper stores up to 1,500 needles; dispose of it, following local regulations, when it is full.1

The WhisperJECT device should be replaced after two years. Please contact VIATRIS ADVOCATE to receive a replacement device within two years of date of receipt.
Storing Viatris' Glatiramer Acetate Injection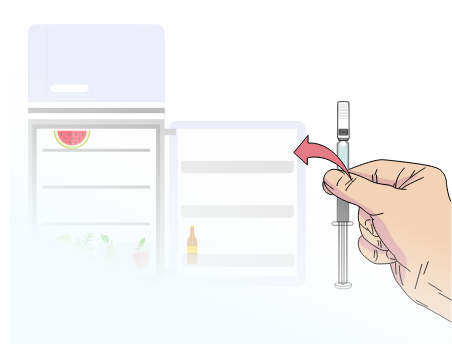 Keep the carton of Prefilled Syringes in the refrigerator at 36-46°F (2-8°C).
Keep Glatiramer Acetate Injection out of the reach of children.

When you are not able to refrigerate Glatiramer Acetate Injection, you may store it for up to 1 month at room temperature (59-86°F or 15-30°C).

Protect Glatiramer Acetate Injection from light and high temperatures.

Do not freeze Glatiramer Acetate Injection. If a syringe freezes, throw it away in a sharps disposal container.
USE
GLATIRAMER ACETATE INJECTION is a prescription medicine used for the treatment of people with relapsing forms of multiple sclerosis (MS), to include clinically isolated syndrome, relapsing-remitting disease, and active secondary progressive disease, in adults.
IMPORTANT SAFETY INFORMATION
Do not take GLATIRAMER ACETATE INJECTION if you are allergic to glatiramer acetate or mannitol.
Serious side effects may happen right after or within minutes after you inject glatiramer acetate injection at any time during your course of treatment. Call your doctor right away if you have any of these immediate post-injection reaction symptoms including: redness to your cheeks or other parts of the body (flushing); chest pain; fast heart beat; anxiety; breathing problems or tightness in your throat; or swelling, rash, hives, or itching. If you have symptoms of an immediate post-injection reaction, do not give yourself more injections until a doctor tells you to.
Chest pain may occur either as part of the immediate post-injection reaction or on its own. This pain usually only lasts a few minutes or can begin around 1 month after you start using glatiramer acetate injection. Call your doctor right away if you experience chest pain.
A permanent indentation under the skin (lipoatrophy and, rarely, death of your skin tissue also referred to as necrosis) at the injection site may occur due to local destruction of fat tissue. In order to reduce your chance of developing these problems, be sure to follow your doctor's instruction on how to use glatiramer acetate injection and be sure to choose a different injection site each time you use glatiramer acetate injection.
Liver problems, including liver failure, can occur with GLATIRAMER ACETATE INJECTION. Call your healthcare provider right away if you have symptoms, such as nausea, loss of appetite, tiredness, dark colored urine and pale stools, yellowing of your skin or the white part of your eye, bleeding more easily than normal, confusion, or sleepiness.
The most common side effects in studies of GLATIRAMER ACETATE INJECTION are redness, pain, swelling, itching, or a lump at the site of injection, rash, shortness of breath, and flushing. These are not all the possible side effects of GLATIRAMER ACETATE INJECTION. For a complete list, ask your doctor or pharmacist. Tell your doctor about any side effects that you have while taking GLATIRAMER ACETATE INJECTION.
You are encouraged to report negative side effects of prescription drugs to the FDA. Visit www.fda.gov/medwatch or call 1-800-FDA-1088.